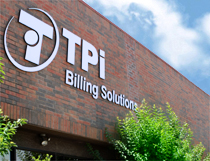 Welcome to TPi Billing Solutions
The continued success of your business is our goal.

TPi Billing Solutions is a full-service Billing Services Provider, located in Tulsa, Oklahoma. We serve customers in most US states and in Puerto Rico and the U.S. Virgin Islands.

We understand the logistics and challenges that our customers face in successfully and efficiently completing back-office functions. We can develop fully automated and custom processes to receive your billing data, produce the statements, and post payments to your bank account and billing software.

TPi is also adept at producing your marketing mailings, periodical newsletters, notices and supplemental mailings at a fraction of the cost you may be currently paying. In some cases we can offer a 75% discount on postage alone.

Call TPi today to streamline your costs and productivity in ways that you may not have thought possible.